EPDM Flat Caps – EFC
EPDM Flat Caps  , EPDM ( EFC-Serie)    ( max.177°C)
Reduces Creepage in Applications Where Temperatures Change Rapidly
Flexible Enough to Conform to Irregular Geometry
Flat Top Aids Insertion and Minimizes any Air Trap
Product Description:
Used as a cap over threaded studs, dowels, and protrusions. Our EPDM  Flat  Cap ( EFC) product line is an alternative to our EPDM Cap (EC) product line for capping applications. Their versatile nature allows them to fit over extrusions, threaded studs, PEMS and dowels. Our high temperature Silicone is specially formulated to ensure reusability and economy during masking.
Helpful Hints:
Alternate to many EPDM Cap (EC) sizes.
When sizing parts as a cap, the ID of the cap should be 2 – 5% smaller than the stud diameter.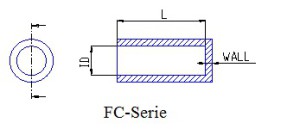 All Dimension in mm
---
You also may interested in