Sloping Edge Plugs -SEP
Kombistopfen / Sloping Edge Plugs   -SEP Serie
(Cylindrical plug with edge, combined plug of solid material, double stopper)
Material: silicone rubber max 316 ° C, other materials such as EPDM ( 177°C)  possible
Application. Suitable coverage metric bores and tapped holes.
Since almost all combi plugs are designed for two diameters, the area of ​​application and cost / benefit effect of the plug.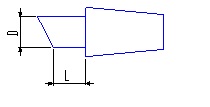 All Dimension in mm
---
You also may interested in