Silicone Cone Plugs -STP
Konische Silikon Stopfen / Cone Silicone Plug   STP-Serie
We can delivery following materials:
Silicone Rubber        = STP-xxxx-xxxx
EPDM                         = ETP-xxxx-xxxx
Neopren                      = NTP-xxxx-xxxx
Tapered to fit a variety of hole diameters
Compressible for better sealling of both threaded and non-threaded holes
Ideal for sand blasting
excellent chemical and hydrocarbon resistance
Typical Applications:
Used as a plug in both threaded and non-threaded holes and in combination with hardware to seal off large cavities.
Helpful Hints:
Make sure that the major diameter of the plug is at least 15% larger than the hole diameter. The minor diameter should be at least 15% smaller than the hole diameter.
Silicone Cone Plugs ( max 315°C )  are not recommended for prolonged exposure to intense heat.
Product Description:
Our Silicone Cone Plug product line is an economical substitute for our ETP product line for general plugging applications. With many sizes available, holes from 1,60 mm to 88,4 mm in diameter can easily be plugged. Our high temperature Silicone is specially formulated to resist chemical attack and ensure reusability and economy during masking.
All dimension in mm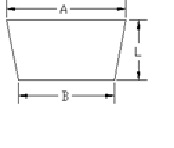 Standard color ist clear / transluzenz , other color by request
---
You also may interested in