Flangeless Plug -FP
Flanschlose Stopfen   / Flangeless Plug   – FP-Series
Material Silicone  (316°C ) = SFP  & EPDM ( 177°C) = EFP
Flangeless Plug (SFP or EFP) product line is specifically designed to mask threaded holes, including the top thread, without masking the surrounding area. The tapered ribs and hollow core allow for many different size holes to be masked, regardless of the thread pitch. Imitation plugs have rounded ribs that do not offer the same degree of protection as Elfeplastic line. Made of a rugged blend of our High Temperature Silicone the SFP has excellent sealing characteristics and reusability.Tapered ribs and hollow core allow for masking of multiple sizes of holes. Sharp rib profile offers excellent chamfer coverage. Specially Formulated to be rigid. Allowing plug to be pushed into place.
Typical Applications:
Used as a plug for threaded holes, including the top thread.
Helpful Hints:
Silicone Flangeless Plugs are designed to be inserted via direct pressure. Elfeplastic does not recommend threading these plugs into place, as threading may cause damage to the plug and difficulty during removal.
Due to the low tear resistance of Silicone, do not use tools (such as pliers) to remove plugs.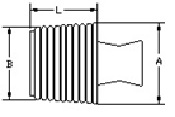 All dinension in mm
---
You also may interested in