Pull Plug – PP
Zugstopfen  / Pull Plug   PP- Serie
Code:  Silicone Rubber (max.316°C)  = SPP   ,     EPDM ( max.177°C) = EPP
Chamfered Neck and Smaller Pull-Tab Diameter Aid Insertion
When Pulled Through Holes, Large Diameter Compresses Until Released, Providing for a Tight Seal
High Temperature EPDM Formulation is Extremely Chemically Resistant and Economical
Typical Applications:
Used as a plug for non-threaded and threaded through holes.
Product Description:
Our Silicone and EPDM Pull Plug  product line is an extremely economical solution for threaded and non-threaded through hole applications.
Helpful Hints:
When plugging a hole, make sure that the major diameter of the plug is larger than the diameter of the hole being plugged by at least 4%.
Keep in mind any interference issues that will be created by the Pull-Tab being exposed after plug is inserted.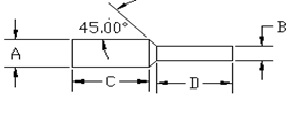 All Dimension in mm
---
You also may interested in